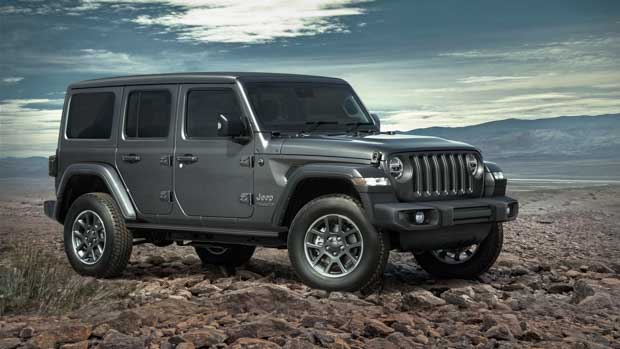 Eighty years after the former Willys-Overland Co. entered into a contract with the U.S. War Department to start building the rugged first military Jeep® vehicle, the brand is thriving and well-received worldwide. In fact, it has moved onto new segments with a more extensive customer base than before. It is now gravitating towards an electric future with the development of the 4XE electric vehicle technology.
According to Christian Meunier, Jeep® Brand Chief Executive Officer, the upward trend Jeep® is on is not something that's going to stop anytime soon. The brand's portfolio will continue to expand into newer segments such as the Jeep® Grand Cherokee L with three rows, and with the all-new Wagoneer and Grand Wagoneer, the brand will have a stronger standing in the premium SUV market.
To celebrate the anniversary, Jeep® has announced that it is looking forward to an electrified future. This objective was showcased in a video that debuted on the Stellantis' EV Day Event. The video featured two couples and their growth with Jeep®. It also points to the future that the brand envisions for the global community.
Meunier also stated that the brand is committed to making Jeep® "the greenest and most exciting SUV brand." By electrifying the vehicles, Jeep® lovers will be able to commute from one place to another solely with the aid of electric power. This, in turn, will create an efficient and exciting on-road and off-road experience in near or complete silence.
The 80th-anniversary Jeep® line-up includes the 2021 Jeep® Wrangler 80th Anniversary Edition, 2021 Jeep® Compass 80th Anniversary Edition, 2021 Jeep® Grand Cherokee 80th Anniversary Edition, 2021 Jeep® Cherokee 80th Anniversary Edition, and the 2021 Jeep® Renegade 80th Anniversary Edition.
All the Jeep® anniversary limited edition vehicles are available at Brubaker Chrysler-Jeep in Lancaster, PA, near Conestoga Woods, PA, near Lyndon, PA, and near West Lancaster, PA. We are a Jeep® dealership near Woodlawn, PA, and we have but used and new Jeep® SUV for sale. If you're looking for an SUV for sale, we've got it. 
We also have Jeep® reviews you can go through if you're not sure of the vehicle that'll mostly suit your needs on our blog. If you also want to trade in your vehicle and you're wondering, what's my vehicle worth? We can help you value your trade-in on our website. All you have to do is to contact us today, and let's get started!